Tournament is the game mode where players fight each other for Gold and Crystals of power.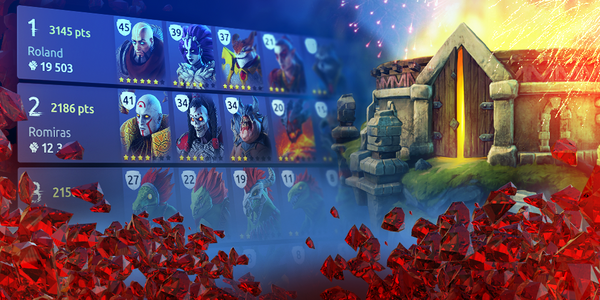 Tournament takes place once every week.
Rules
[
]
All players, who have entered into a battle against other player on the Arena at least once 24 hours before the Tournament, are split into Tournament groups. Players are sorted into groups according to the average power of their top five highest-level heroes.
During the Tournament, players can attack other players in their group. Players attack each other in Tournament to earn more points and reach a higher position in Tournament Leaderboard.
In Tournament mode, players earn more points for victory in battles in which they attacked other players themselves and fewer points for a victory in defense mode.
Players lose more points for lost battles when attacking, and lose fewer points for defeats in defense mode.
Similarly to Arena mode, battles in Tournament mode take place asynchronously. This means that the enemy squad you attack is controlled by the AI.
Heroes who fall in battle do not resurrect between battles in Tournament.
Tournament lasts 24 hours. When the time's up, all players' results are recorded and they earn rewards at the end of the Tournament.
Rewards
[
]
Players can earn Crystals of power and Gold in the Tournament.
Players earn rewards for reaching the Leaderboard at the end of the Tournament. Rewards won by players are held in the Post section awaiting collection.